Thanks to
Aaron & kimjohn
for making this catalogue available. Scanned at 300dpi colour all 136 pages of A4 size.
This is Dick Smith Electronics Enthusiast's Catalogue 1981-82 eleventh edition and sold for 75 cents. As it says :
Welcome to my new 1981 catalogue.
You've probably already noticed the changes: apart
from the fact that computers now have
prominence they deserve, I've rearranged the other
sections of the catalogue to make everything much
easier to find.
And there's the all new data section. Over 30 pages,
which I'm sure you'll find extremely useful. There's
information for everyone interested in electronics
from the beginner through to the engineer.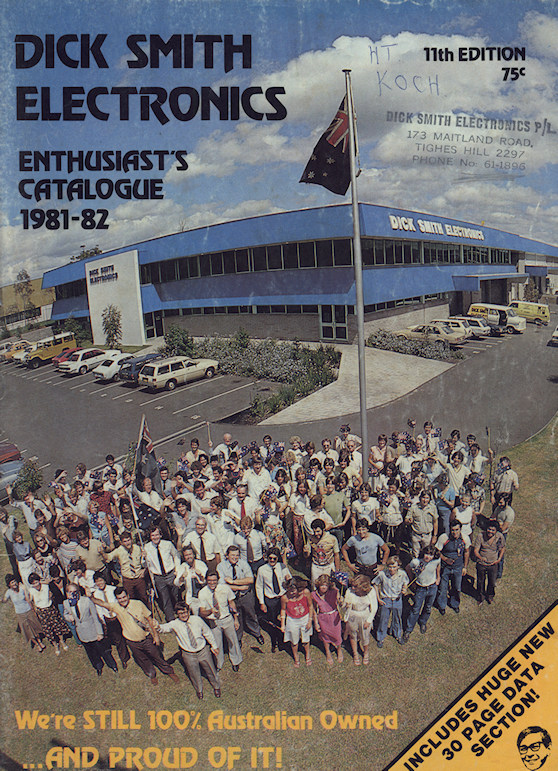 Lots of information on
System-80
and the
Exidy Sorcerer
in the first few pages, then sections for
Computer/Learning Aids
Electronic Entertainment
Metal Detectors
Hi Fi
Audio
Speakers and Modules
Microphones
Public Address
Automotive Products
Computer Books
Amateur Radio Books
Books
Fun Way Into Electronics
Playmaster Kits
Dick Smith Kits
Project Kits
Computer Kits - 
(Introduces the Nova 80 which became known as the Super 80)
Burglar Alarms
TV Aerials & Accessories
Yaesu Amateur Radio
Amateur Accessories
CB Radio
Multimetres
Test Equipment
Intercoms
Answering Machines & Phones
Order Form
Electronic Components
Printed Circuit Boards
Boxes & Bezels
Knobs, Wire & Cables
Heat Sinks & Switches
Plugs & Sockets
Tools
Servicing Aids & Cabinets
Solder Equipment
Power Supplies
Batteries
Calculators
Clocks & Watches
Data Section
- 30 pages
plus lots of subsections of the above also.  The Catalogues give a valuable look at what was available in 1981 and the prices they were selling for. Like a Daisy Wheel Printer for $1995 or a full height 40 track double sided Floppy Drive for $379. At those prices, no wonder they are rare.
Since the System 80 is the prominent computer throughout, we placed in the Vintage Repository in the System-80\Documentation folder the following 
dick_smith_catalogue_1981-82.pdf
---------------------------
ChickenMan