Microbee only sold a few games in ROM form but there is no reason why you cant burn your games to a rom. Burn your 8k or less games or programs to a 2764 eprom and insert into any free socket depending on what coreboard and model Microbee you have. Here is a Series 3 Communicator with some extra burnt roms in place
and here is a PC85 with a few extra added game roms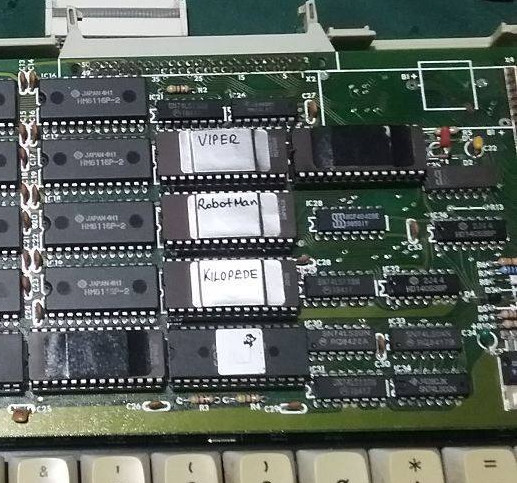 Both still have BASIC and Wordbee roms kept in place and if not needed, the Wordbee rom can be replaced also. Once installed, from BASIC a PAK1, PAK2, etc command will start the games, almost instantly. So no long wait for a tape to load any more nor the need for a potentially leaking battery. I have used 200ms to 450ms speed 2764 roms of different brands and they have all been tested to be working in a Series 3 and a PC85 real Microbee. All work from ubee512 emulator also if you put the roms in the ubee512\roms folder and use, for example,
ubee512 ic --pak1=robotman.rom
  and once Basic loads, enter PAK1
When you issue a PAK1 from BASIC, the Microbee first checks address C000h for the Jump code, C3h, and if not there, it reports "Option not Fitted" error. So the roms basically consists of 4 parts, first a JUMP at the start of the rom, then the file code (machine code or Basic program) and finally with a loader at the end that is initially jumped to that moves the program into the memory location that it would normally occupy if loaded from tape. Last is then a JUMP to the start of the program. If its a BASIC program then to 801Eh, if machine code most games start at 0900h. More information on how to add your programs to a rom is in the
eprom_programmer_and_64k_rom_pak_instruction_manual.pdf
manual that's in the Documentation Repository.
There are not a lot of "good" games that can fit into an 8k EPROM, but these are a few I like. If any others are required, let me know and I'm sure they can be generated.  It is also possible to burn a 16k game across 2 x 2764 (8k) eproms, again, how to do it is all in the manual.
So in the MbeeTech Repository in the Microbee\Software\ROMs\Games folder we placed
backgamon.rom
grotnik.rom
kilopede.rom
robotman.rom
squadron.rom
subterra.rom
viper.rom
---------------------------
ChickenMan