Hi,
Discussing with Ewan via email but thought it might be useful to post in the forum for posterity.
Bought a CGA-to-VGA converter a few years ago but never got around to using it, but my plan was to use it with my Amstrad CPCs, BBC Model Bs and some DOS machines once I was properly set-up.
Finally getting myself organised.
The Amstrad CPC and BBCs use the same analogue RGB output via 6-pin DIN:
Pin 1 = red
Pin 2 = green
Pin 3 = blue
Pin 4 = composite sync
Pin 5 = ground
Pin 6 = luminance
There didn't seem to be any documentation about connecting CPC to CGA, so I came up with this wiring scheme:
Amstrad pin 1 (RED) -> CGA pin 3
Amstrad pin 2 (GREEN) -> CGA pin 4
Amstrad pin 3 (BLUE) -> CGA pin 5
Amstrad pin 4 (SYNC) -> CGA pin 8 (H_SYNC)
Amstrad pin 5 (GND) -> CGA pin 1
Amstrad pin 6 (LUM) -> CGA pin 6 (INTENSITY ... although, incorrect/irrelevant?)
I left CGA pins 2 (extra GND), 7 (reserved?) and 9 (V_SYNC) unconnected.
Input voltage was 8V and it was drawing about 1/3 A.  The GBS8200 OSD worked but it continued to say "no input".  I also tried with a Commodore 128D with straight-through DB9 cable.
I confirmed the cables using an Amstrad EGA display - both my CPC-to-CGA and the one I used for the C128D.  The Amstrad displayed slowly rolling gibbersh (no V_SYNC), but the colours were correct (yellow text on blue background).  The C128D display was perfect.
I also want to use it on my Amstrad CPC6128+ that has an 8-pin DIN.
Brett.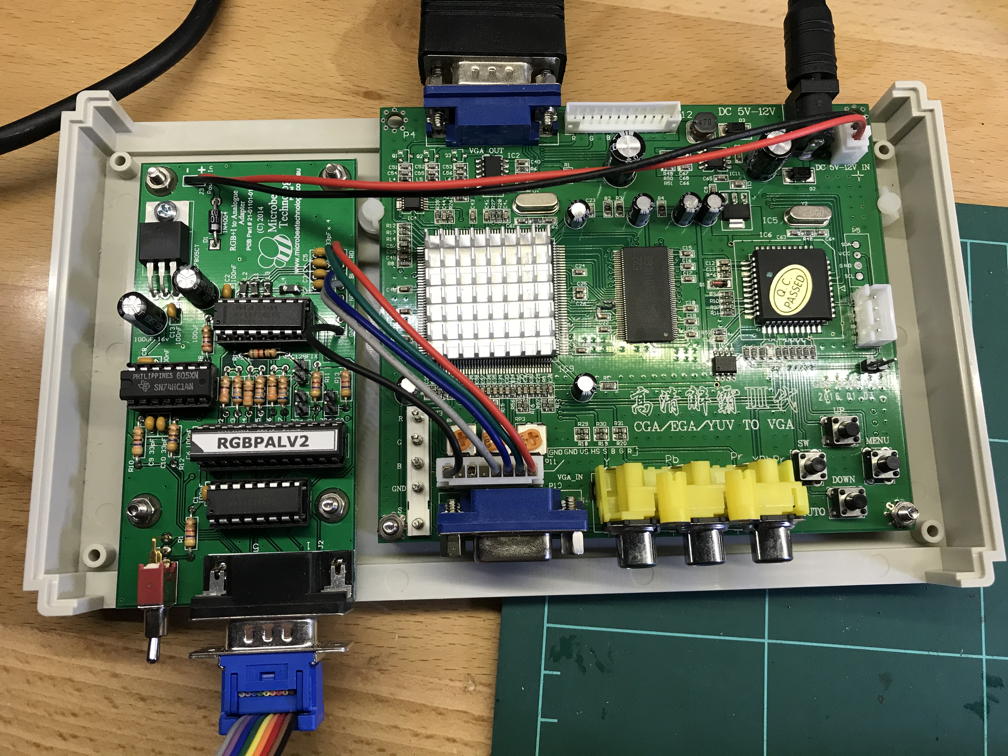 ---
For interest, this is what the Amstrad CPC464 output looked like on the EGA display using that wiring scheme.