Some time back, I had been slowly getting all the games / programs listed in the Penguin Book of Microbee Games to actually run on a Microbee. A PDF of this book is in our Repository and was used as the source for each game by extracting the text from the OCR'ed pdf and fixing any OCR errors.
The disk itself is a bootable (Peter Broughton system) SS80 3.5" disk image so will run on a CIAB, 128k Premiums and 256TC but you will need to INIT with a 256TC boot image first. There are all 26 games included and the disk is Menu driven. The games are in the same order they are within the book. They are all simple short games, some good, some crap (in my opinion).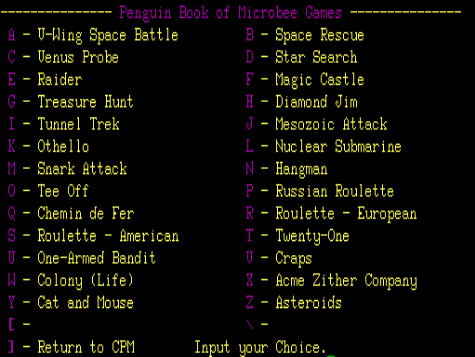 However, it was recently discovered that the program
Russian Roulette
(option P from the Menu) does not run and with a number of errors.  These were all fixed and it was also discovered there was an error in the code as listed in the book. Line 440 finished with a GOTO 60. But Line 60 was in the middle of a FOR NEXT loop, resulting in an error, so was changed to GOTO 20 and now all is well.
So the disc has been updated to fix this program.  If any other issues with any of the other programs on the disc, please let us know so they can be fixed for everyone.
So in the MbeeTech Repository in the Microbee\Software\Games folder we placed the updated
penguin_book_of_games_ss80.dsk
---------------------------
ChickenMan