Thanks to
kimjohn
for making these 2 disks available to be imaged.  They were standard Microbee DS40 5.25" disk, bootable and with no copy protection that imaged 100% error free.
This originally comprised of 2 disks with the main Menu on one disk, A:, which pointed to files on both A: and B: drives.  Both disks were nearly full but with many duplication of programs, so it was decided to copy all the needed files onto the one disk for ease of use. So the disk is suitable for a Prem 128k Microbee, but change the Basic for a std 128k or CIAB upgraded with double sided drives and change the system for use on a 256TC. The disk boots to :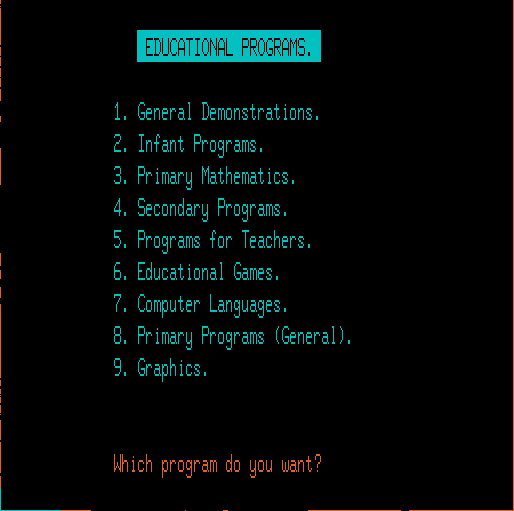 and each of these options runs its own separate menu of 6 to 8 programs and also allowing you to return the main Menu, which is START.MWB. Some programs when ended just stop and return to Basic, other need a Reset and a few return to a Menu.
We have many of the programs spread across various Educational disks already in the Repository but there are many new programs as well but all were not tested, as there are 72 programs on this disk. The Menu and the disk compilation was made by a school in South Australia but it was modified slightly to fix a couple of minor spelling mistakes and set the colours evenly.  Programs are commercial, PRIMUG and public domain so a good mixture.
So in the MbeeTech Repository in the Software\Education folder we placed
education_14_ds80.dsk
---------------------------
ChickenMan