21-11-2021, 10:10 PM (This post was last modified: 21-11-2021, 10:16 PM by CheshireNoir.)
So further work has been carried out. I got the 'scope out and probed backwards. I didn't seem to be getting any signal at the connector but did see some at the other end of R20. I replaced R20, and then the connector (It was more than a bit loose and more than a bit oxidised, despite deoxit) but neither change made a difference.
Now I have a
theory
here, but I wanted to check it past the more experienced people here.
This is what I'm getting at the point where TR2, R18 and R20 meet (looking at the "microbee motherboard issue 2" schematic).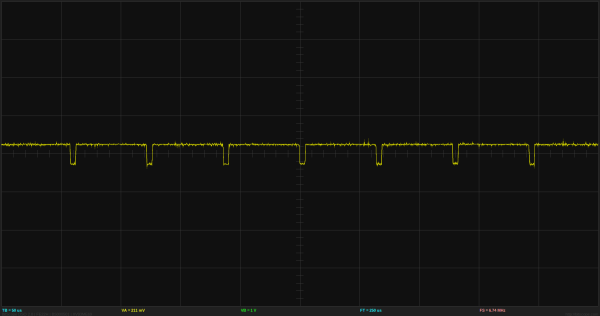 "black" background.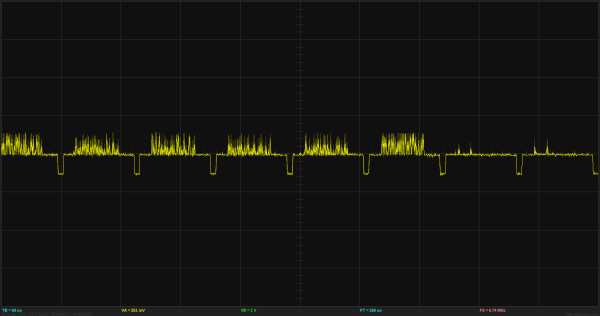 A line of text pixels
These look, to me, to be a signal, but they seem WAY too quiet. 250mV
before
they go through R20. Nothing out the other side,
My theory is that TR2 is not amplifying enough. Should I replace TR2? Is something else in that mess of analog possibly pulling things down too far? Should I look at swapping R17 to a different value, as it's marked as being the video level adjustment?
I don't want to continue replacing scattergun style if I can avoid it.
I've reflowed absolutely everything in that area to no avail. I've probed around with a non conductive probe in case something is "loose". No changes.
I've checked to make sure nothing seems to be shorting out between R20 and the connector. (If it is, it's nigh invisible)
It feels like I must be really close!
Chesh
EDIT: I just jumpered around R20 and got a signal. This seems to confirm the signal level is too low.
Cheshire Noir
----
One Dark Little Kitten