Yes, they just keep coming, while we already have a huge collection of Text Adventures for the Microbee, you can never have enough. Most of these Text Adventures games are in Inform Z3 format, with most produced with PunyInform and just run with the Scott Adams Z3 DAT Microbee loader (RUN.COM). A few were Amstrad CP/M games with the CLS code changed for the Microbee. There are also a couple BASIC games as well and all running from a graphical Menu.
So another 8 Text Adventure games have been added to a modified EASY MENU from Microbee (M.COM) to each disk for easy selection of these. The #35 disk is a DS80 3.5" floppy so 128k & 256TC friendly while the #36 is a SS80 3.5" floppy so CIAB, 128k & 256TC friendly.
The games on Adventure #35 are :
1. Fuddo & Slam 2 - The Fishing Trip
2. Retarded Creatures & Caverns 2 - Return to the Castle
3. Tristram Island - Demo
4. Gorge of Death
5. Hibernated 1 - This Place Is Death - Directors Cut
6. Pub Hubbub
7. Death Number Four
8. Pub Adventure
Adventures #36
1. Dream Walker - Part 1
2. Dream Walker - Part 2
3. Dream Walker - Part 3
4. Arthur's Day Out
5. Buccaneer's Cache (2nd release)
6. Ghost Mountain Adventure
7. The Job Adventure
8. Stoneville Manor Adventure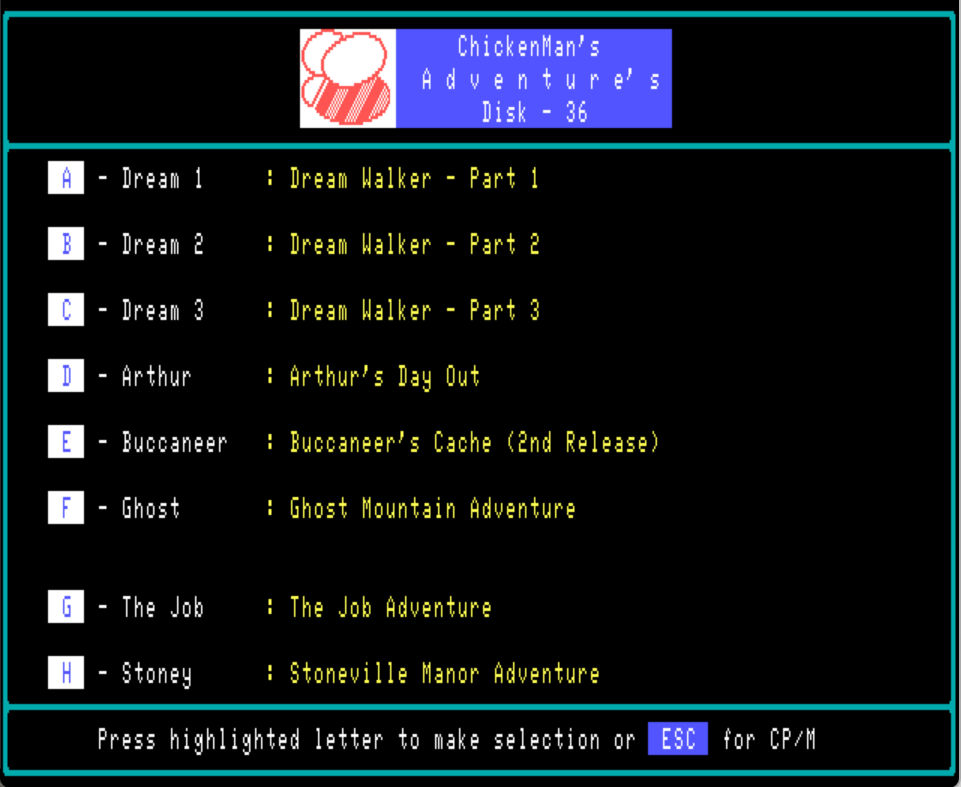 Tristram Island is available in Demo and a larger commercial version. Gorge of Death is a machine code game that runs out of Basic as does Stoneville Manor. Hibernated 1 is the updated Directors Cut version, see Adventure #31 disk for the original version. Some games on both the disks were entries in 2021 PunyJam #1 competition.
You can exit most of the Adventures with Q or QUIT, followed by a Y and sometimes an N and you will be returned to the Menu. However, you MUST re-boot the disk to be able to run another game.
A Walkthrough for most of the games is also included on the disks. View ONLY if you really get stuck, use BISHOW (F forward, B backwards) or Transfer to view them. They have not been fully checked and all came from
http://solutionarchive.com
.
So in the MbeeTech Repository in the Microbee/Software/Games/Adventure folder we placed :-
adventure_35_ds80.dsk
adventure_36_ss80.dsk
---------------------------
ChickenMan