1st for the New Year

Having removed Ladder from the original Arcade_1 disk and then finding many different versions available on the net of these 2 games, it was decided to put them all on the one easy to use disk. This is a bootable DS80 disk that boots to a menu for easy game selection. The Turbo Pascal source code for the Menu is also included on the disk.
The screens in Ladder versions Cinchlad and Easylad were created by children under 10 years of age. They are designed to be played by kids, novices and wimps. Midlad is an intermediate game and Hardlad is for experienced players. As for Imposlad,  anyone who reaches the $ in Rat's Nest is a true Ladder Master.
Also on this disk are 3 original versions of Ladder (one called LEITER is in German) and 3 original versions of Catchum, all by Yahoo Software from 1982/83. Their Configuration programs (LADCONF and CATCONF) are also included here if you wish to configure then for another Terminal, as currently they are all configured for the Microbee (ADM-3a). Just rename the file to CATCHUM.COM or LADDER.COM before running their Config programs, then re-name back to original name.
If your playing these games via ubee512 emulator, from CONSOLE mode, enter -x 2 (or 1) to slow the game down if you find the game a bit to fast or to make it a bit easier

So in the MbeeTech\Microbee\Software\Games folder we placed
yahoo_ladder_catchum_ds80.dsk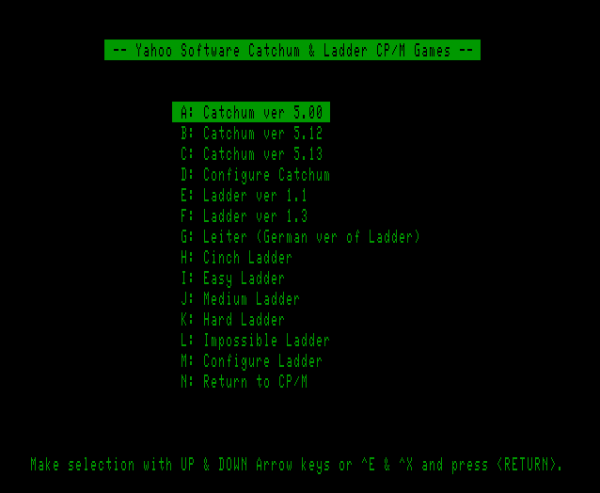 ---------------------------
ChickenMan