Thanks to
Grahaml
 for making these files available. They originally came off Sorcerer Micropolis Hard sector 100tpi disks but nothing was found to actually run the games. So he was able to write them to a tape, then played back the tape and recording the signal via Audacity. The volume was set high, so they are basically a square wave captured at 44.1kHz and saved as stereo 16 bit WAV files. He was able to load them error free into a real Sorcerer and myself into MAME, setup as a Sorcerer with the BASIC ROMPac installed. They were later reduced to mono 16kHz 8 bit WAV file to substantially reduce their file size. Again, they were tested in MAME and all still load error free and run. The same type of Basic files were also recovered from some
exidyboy's
recovered Sorcerer disks a few years back and
Grahaml
 was able to recover some of those also.
To run the games (all are Basic), run MAME and select SORCERER by highlighting it and press Return, then highlight [start empty], at the top, and press Return and then Return again at next screen. Soon you will arrive at the Monitor. You now need to load both the BASIC ROMPAC and the WAV file of the game you want to play. Hit SCREEN LOCK and then TAB and from the Menu select File Manager and load in the WAV file in CASS1 position and the BASIC ROMPAC into CART position. Then click Reset System and it then re-boots and auto runs the Basic ROMPAC, so your now at the Basic Ready prompt. These tapes are all 300 baud (Sorcerers default is set to 1200b), so type in BYE and Basic exits to the MONITOR. Type in SE T=1 hit Return, so cassette speed now set to 300b. Now type in PP to return to Basic. Type in CLOAD and hit Return and the tape auto starts to load. Once loaded, RUN and a Return will start the game. To try another game, MAME will remember you have the Basic ROMPAC installed, so you just need to change CASS1 to the new WAV file, set loading to 300b and CLOAD the game. They all take between 3 and 5.5 minutes to load, so not long really, for example -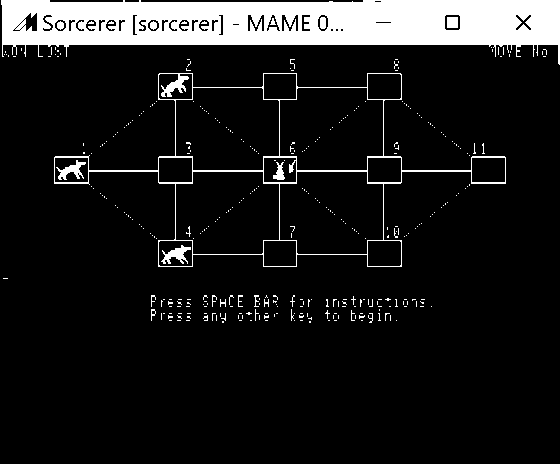 Most of the games are of Australian origin with a few maybe not. They can all be written to cassette for loading into a real Sorcerer (name will be only 5 letters long) or loaded as is into MAME selecting SORCERER with BASIC ROMPac installed.
So in the Vintage Repository in the Exidy_Sorcerer\Software\Tapes folder we placed
bunny_hunt_basic_300b.wav

<-- Sydney Sorcerer User Group - J T Staley 1979
cribbage_player_basic_300b.wav

<-- by BoB Stafford 1980
cybernetic_pool_basic_300b.wav

<-- by Paul Balin, PJB Systems, NSW
dragons_lair_basic_300b.wav

<-- Maze program v2.1
fuel_economy_basic_300b.wav

<-- by Don Larner, Victoria
kiddo_basic_300b.wav

<-- Sydney Sorcerer User Group - J T Staley 1979
laser_fire_basic_300b.wav

<-- by Mark Yvanovich
poker_machine_basic_300b.wav

<-- by Paul Balin, PJB Systems, NSW
solitaire_basic_300b.wav

<-- Melbourne Sorcerer Computer Users - Kelvin Saggers
space_pilot_basic_300b.wav

<-- Melbourne Sorcerer Computer Users - Roy Ferguson
space_ship_basic_300b.wav

<-- Design and orbit a Space Ship
sub_basic_300b.wav

<-- Sydney Sorcerer User Group - J T Staley 1979
supersorcermind_basic_300b.wav
<-- Mastermind by W J Graham
---------------------------
ChickenMan